CASE STUDIES
Changing Perceptions of a Brand - Making Kia Motors Cool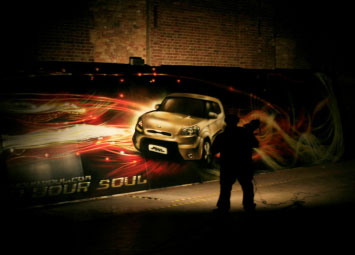 CLIENTS
Kia Motors
Agencies Involved
PROI UK: Publicasity
Job
When Publicasity was originally appointed in 2005 by Korean car manufacturer, Kia, our brief was to alter the image of the brand in the UK; from being seen as a cheap car manufacturer aimed at older audiences to a design-led, credible and aspirational lifestyle choice for a younger demographic.
Objectives
Publicasity's core remit was a brand perception campaign aimed at consumer media – excluding the car pages.

The secondary task was to work with Kia's network of 160 regional dealers to provide them with regional PR support and help drive sales on a local level.
Activities
Extensive audience research led to large-scale segmentation of key audiences by lifestyle trait, life stages, influencing factors and purchase triggers. In a fiercely competitive marketplace we were cognisant of the fact that perceptions could not be altered overnight and that we would have to embrace the brand's existing attributes to start the process. Audience research led to a Young at Heart campaign strategy focusing on smart shoppers - the type who would reject brand names in place of quality, style and ergonomics.

An integrated 12-month press office campaign followed, consisting of regular news-creation spikes that drove the news agenda alongside product launches, supported by a direct to consumer experiential and digital campaign aimed at positioning the brand in line with the Young at Heart strategy and encouraging test drives.

News creation included research around the impact of different types of music while driving, snacking at the wheel, understanding road signs and in-car long distance family fiascos; all of while drove consumer coverage in the national press to raise Kia's profile and associations of the brand beyond original perceptions.

Direct to consumer activity drove further favourable associations – from a Drive Dating event to celebrate the launch of the new Kia Picanto and a large scale street-art/digital campaign across key cities to launch the Kia Soul – a campaign which drove sales of 600 cars before any other marketing activity had commenced.

This has been supported by a robust campaign of consumer competitions, car loans and social media engagement to ensure that Kia and its products had presence through the line all year round.

A CSR campaign targeted at the growing dealer network included supporting Kia's National Walking Bus initiative through a variety of tactics including celebrity photocalls, topical news generation and individual dealer support for those participating.

Our media strategy aimed to reach the target consumer on a wide variety of levels – from traditional consumer lifestyle press through to blogs and forums. Also importantly a robust dealer programme is managed by our team to drive local footfall into Kia's network of over 150 dealers – this involves an ongoing contact programme across the dealer network to support local initiatives and a PR toolkit to streamline communications and provide guidelines.
Results
In 2010 are just under £900k worth of media coverage was secured in key non-motoring lifestyle media with a return on investment of x5. Sales have improved year-on-year and Kia has won several prestigious industry accolades, such as The Scottish Car of the Year Award, and the recent Car Buyers Car Award.

CLIENT TESTIMONIAL
"We have worked with Publicasity for over three years 'through the line' from consumer, dealer, corporate, experiential and digital PR remits. They deliver an amazing ROI consistently but also help us drive direct sales from our forecourts. Our recent launch of Kia Soul was driven purely by PR pre-launch and generated 600 sales before the car even arrived in the UK and any other marketing activity had kicked in." Steve Kitson, Kia Motors UK