Article: Getting Emotional with Travelers Through Social Videos
Author:
Lisa Ross & Jennifer Valdes
Publication:
Hotel Executive
Date:
Lisa Ross & Jennifer Valdes
If a picture is worth a thousand words, then how much is a video worth? Exactly 1.8 million words, according to Dr. James McQuivey of Forrester Research. It is no secret that we are living in an era of video, and hotel marketers are investing resources in video to increase consideration and boost engagement for their brands. Whether it's a suite with a view, an onsite experience or event, a video can enable brands to connect with travelers on an emotional level.
The question should be, how can hotel marketers more effectively use video as a tool to make meaningful emotional connections with target audiences and achieve measurable impacts on business success?
Like any creative asset, the use of each video should be strategic with thought given to its purpose and desired outcome. Whether captured by a traveler or produced by a brand, the best-performing videos reel viewers in with a mix of compelling storytelling, relatable moments and emotional triggers that inspire action, from social sharing to buying.
Now more than ever, brands can and should invest in building relationships with consumers on social. Seventy percent of highly emotionally engaged consumers spend twice as much or more on brands they feel loyal to, compared to only 49 percent of the not-so-emotionally-engaged ones. Hospitality brands that go beyond facts and figures and get creative with video use can spark emotion amongst travelers, and as a result, develop deeper and more loyal connections.
1. Always Look at the Data
First things first, hotel executives must know and understand their target audiences, including both existing and potential customers, before developing or sharing any videos. It is critical that defined and agreed upon audiences are based on research and insights. General demographic information is valuable but too broad; dig into psychographics, passion points and interests.
Hotel marketers must be in tune with their brand's and their competitors' social media presence and performance, specifically consider the makeup of the current and desired fanbase, what content is resonating, and how followers are socializing and engaging with the brand and with one another. Where are social interactions strongest? Are there areas for improvement? Are there any opportunities? Are consumers emotionally engaging with the brand? If so, how?
This kind of audience segmentation and analysis is vital to any video strategy, and it will heavily influence creative direction, production and distribution. It will also help marketers determine desired tone of conversation on its social platforms and how to engage travelers in positive dialogue. At the end of the day, it is important to remember that every video will not speak to every traveler the same way.
2. Stay Social Savvy
Hotel marketers must stay abreast of the ever-changing video features and interfaces of social media platforms. Instagram introduced IGTV in 2018, for example, enabling brands and users to share long-form video content with their followers. As a result, videos get 21.2 percent more interactions compared to static images and 18.6 percent more interactions compared to carousels.
In 2019, Facebook and Instagram both began hiding like and reaction counts on its platform to focus on quality of content versus quantity of likes and views, while LinkedIn added reactions to boost engagement. The ongoing changes and updates to social media platforms will continue to have implications on video consumption and value which challenges hotel marketers to keep up with social media changes.
YouTube, Facebook and Instagram are the most popular platforms for consuming brand videos, yet all three have different guidelines, video specs and advertising video dimensions. Whether sharing a user-generated or brand-produced video to attract travelers, it is important to take all these factors into account for best quality and results.
3. Show Don't Tell
Hospitality brands can stand out from their competitors and break through the clutter by showing what makes them the ideal choice for travel with visuals, not telling with text. In general, nobody likes or remembers text-heavy content. Visually rich content consistently is easier to digest, facilitates better retention and motivates engagement. Common visual elements, such as color, texture, readability, photo style and shape, can be associated with positive or negative emotions.
Adding music or graphics is another effective way to further stimulate travelers' emotions and imagination. All things considered, highly visual content stirs emotions and increases travelers' likelihood of sharing the content with their network thus building a web of peer-to-peer content that serves to inspire potential bookings.
4. Get in Touch with Travelers' Feelings
Traveling naturally invokes a range of emotions, from excitement and fear to comfort and joy and many other feelings in between. Emotions guide decision-making, so to connect with travelers, hospitality brands must map out every stage of the customer travel journey, or the marketing funnel. A brand that understands the emotions driving customers' actions can harness the power of video to anticipate and address their every need as demonstrated by below examples.
Dreaming
For travelers seeking vacation inspiration, brands should invoke feelings of anticipation and excitement through captivating video that leaves viewers desiring more.
Planning
For travelers looking for relevant options within their desired destination, brands can gain trust and interest by offering guest testimonials and behind-the-scenes access to onsite experiences through targeted videos. Sixty percent of travelers who view video content on social platforms use it as a factor in their decision-making process.
Booking
For travelers who are ready to book, brands could capitalize on travelers' fear of missing out (FOMO) by creating a sense of urgency with live video and/or a strong call-to-action, such as flash sales, limited-time savings or countdown to a major event. It is important to note that decisions are largely emotional, not logical.
Experiencing
Tip- and guide-driven video content will help create a positive emotional experience for travelers who will in turn share their experience on social media and impact loyalty. Consider guests and patrons as co-creators.
Remembering
Emotions such as joy, excitement, annoyance or discontentment play a key role in determining travelers' future loyalty. Leverage user-generated content, whenever possible, for video since it is viewed as more authentic, genuine and trustworthy.
5. Identify and Collaborate with Brand Storytellers
There is no denying that video helps brands capture travelers' minds and hearts at every stage of their journey, but brands should look externally for third-party support. After all, consumers do not entirely trust, brand and marketing messages. So, how can brands effectively get consumers to care and earn their trust? Through collaborative storytelling that resonates.
The All Suites brands by Hilton uncovered that their guests' passion points included DIY/crafts and food and wellness, so the brand defined their target personas – the DIY hack mom who desires work-life blend and the business traveler who stays healthy on-the-go – and set out to identify strong visual storytellers who embodied these personas. Each had the right social reach, proven success and passion point alignment. Experienced video content creators, Oh Joy!, Fit Men Cook and Oh Happy Day, scripted and shot content in-suite at all three brands.
The All Suites brands by Hilton's biggest asset is space, so these videos sought to show travelers why space should matter to them, how it was applicable to their everyday travel lives and how these affordable suites and complimentary amenities could maximize their travel budgets. From making crafts with kids on a rainy day to planning a flavorful meal, we brought these passions to life in the suites with the help of videos created by relatable storytellers.
The influencer videos rolled out on Facebook and Instagram during key travel periods, directing consumers to HiltonBringIt.com to learn about the best brand for their travels and to ultimately book a suite. The program delivered an 18 percent increase in travel consideration for the brands, more than 7.8 million video views and 5.5 million engagements (likes, comments, shares).
Social videos help transport viewers from their desktop or their mobile devices to a new, exciting destination and leaves an impression on aspiring travelers who recall not only sights but also sounds that let the imagination run wild with excitement for their next trip.
Virgin Voyages launched its brand three years before its first ship's sailing in 2020. While there was no physical product available to show or sell, leveraging owner Richard Branson along with architecture and design partners as storytellers, the new cruise line introduced its first ship's design and name with video teasers during milestone moments that made a splash across social media. Targeting Virgin brand loyalists and travel enthusiasts, the videos provoked instant interest and curiosity as well as created the desire to be one of the first cruise passengers aboard the newly dubbed Scarlet Lady.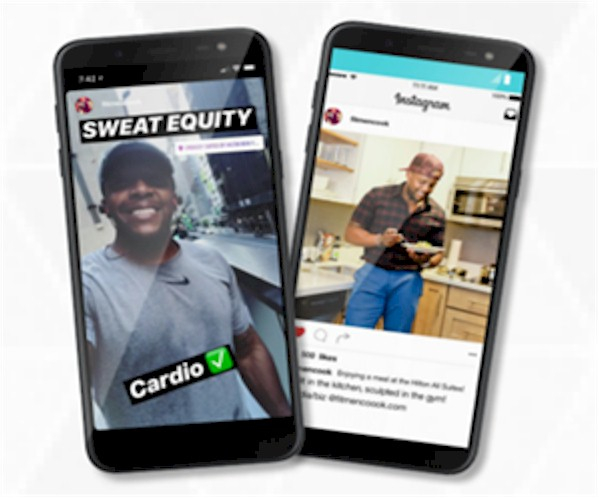 6. Listen, and Stay Social
As the demand for video continues to rise, hoteliers must continue to nurture their relationships with their audiences, know them inside and out and appeal to and embrace their emotions. The best way to accomplish this is to listen. Listen to customers' feelings – the good, the bad and the ugly – and evaluate. While content strategy should be based on data, insights and the customer travel journey, and video creation and timely distribution should be supported by partner storytellers for greater impact and reach, the work does not stop there.
Hotel marketers must test and optimize all videos for emotional effectiveness and evaluate impact on their hotel's branding, engagement and direct bookings. Videos must continue to evolve and anticipate travelers' wants and needs with fresh, original perspectives and content that evokes emotion and continues a brand's dialogue with new and potential travelers.
Click here to view the online publication