CASE STUDIES
Vivo 2019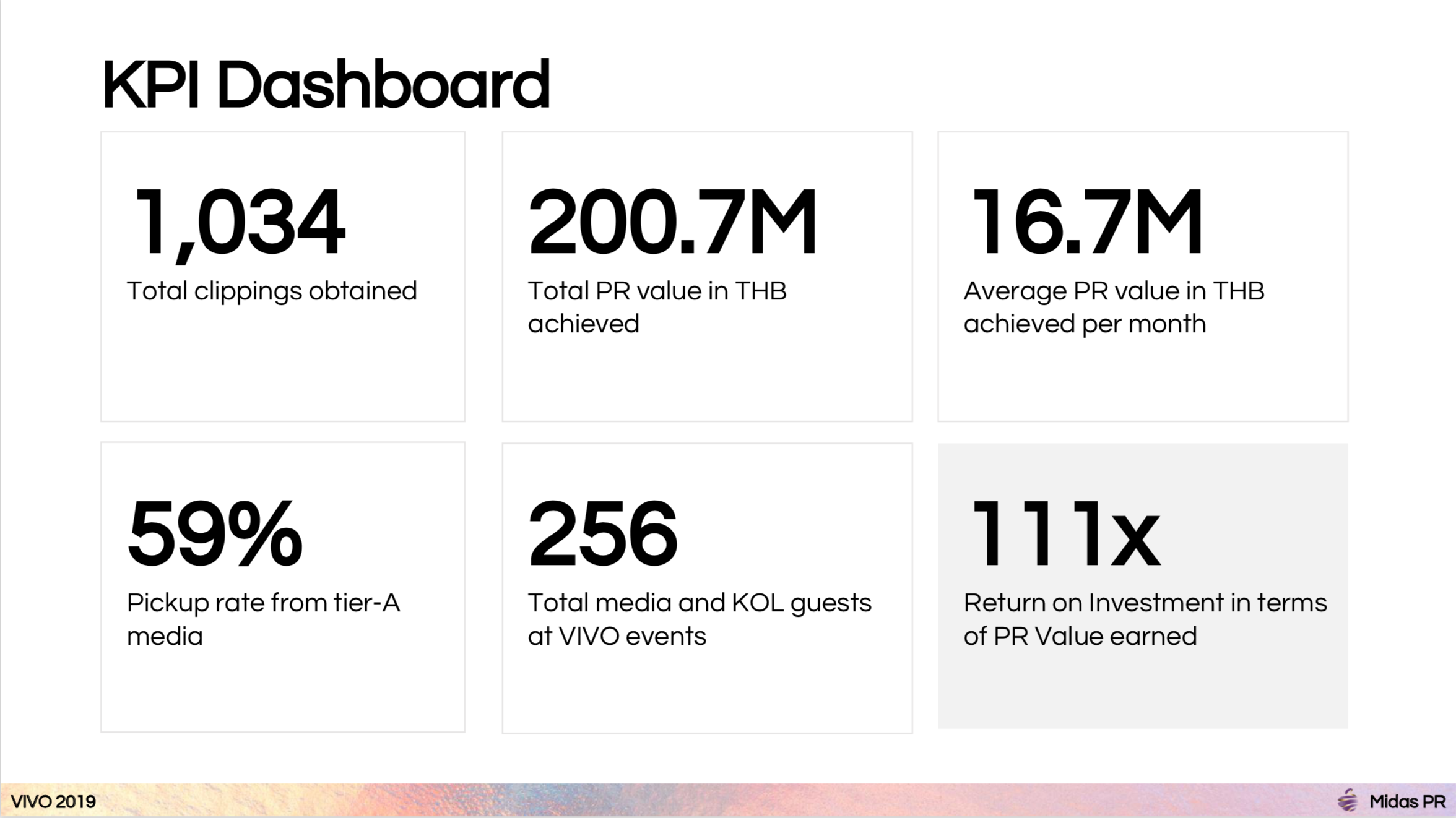 CLIENTS
Vivo
Agencies Involved
Midas PR
Job
Midas PR has been working with Vivo Thailand on a retainer basis for one year, handling all PR activities for the company in the country. Throughout this collaboration, Midas PR has delivered close to a thousand pieces of media coverage for Vivo's numerous activities and events.
Our scope of work covered all of VIVO's PR initiatives in Thailand. Examples of these activities include: distributing press releases, coordinating exclusive interviews, inviting media, providing media support at major VIVO events, news announcements, as well as providing ongoing advisory and media training to VIVO's CEO and Marketing Team.
Activities
21 Press releases disseminated
7 Media and KOL event management: Midas-PR liaised with several members of the media, bloggers and KOLs to conduct reviews of Vivo's new products. To best communicate Vivo's key messages, our company briefed the selected members beforehand. Particularly, 30 bloggers and members of the media were invited to a closed-door Vivo workshop. This workshop was an exclusive opportunity for the attendees to be the first to get their hands on the new Vivo V15 Pro. For this workshop, Midas-PR provided a full day of media management and support.
CSR campaign: Midas-PR also assisted Vivo in successfully carrying out their CSR campaign, the "Vivo Season Campaign with SOS Children's Villages Thailand", during the month of July. As part of the campaign, Midas-PR contacted the famous illustrator Bigham to design one-of-a-kind stickers to be delivered to users buying a Vivo smartphone from July 10 to August 31. The agency also monitored the design to make sure Vivo would get the best result. Our responsibilities included contacting the foundation and arranging a collaboration between both parties by writing a permission letter. Moreover, we shot a video that was used to promote this Vivo campaign to several media outlets and also disseminated a photo release.
Executive media training: Midas PR organized a media training with Mr. Tian to prepare him for the executive interview. The training session focused on the Thai media landscape and interview best practises, making Mr. Tian more aware of the local media idiosyncrasies and preparing him for upcoming one-on-one interviews.
Executive Interview: Midas PR organized a media roundtable for Vivo in February after the V15 launch event. The roundtable was added to the launch event thanks to the agency's recommendation in an effort to promote Tian Kai, Vivo Thailand's Head of Marketing, and his vision for the company. Midas PR supported Vivo by handling and maintaining the media relations for the entire launch event. From pitching the potential key media, managing RSVP before and during the event to following up with media clippings.
Consumer Trip: Midas-PR carried out tasks related to client support during the event that took place in February in Pattaya and later prepared and disseminated a photo release of the event.
Vivo V15 x BAMBAM GOT7 Blossom UP Exclusive Fan Meet: Our agency also contributed in the success of the "Vivo V15 x BAMBAM GOT7 Blossom UP Exclusive Fan Meet" event at CentralWorld. The team was in charge of the media invitations and securing the attendance of up to 48 media representatives.
Vivo S1 Launch Event: A mapping of the potential media attendees and a subsequent invitation was provided by Midas-PR. Eventually, up to 61 representatives from the media attended. Our agency again created the guidelines for a Q&A session, this time for Baifern to most effectively navigate the media landscape (S1 Presenter). To conclude our work for the event, a press release was disseminated and a group interview was organized.
Vivo V17 Pro Launch Event: Yet again, Midas-PR created the guidelines for the upcoming Q&A BamBam and Mark GOT7 would have to face in the V17Pro Launch Event for BamBam and Mark GOT7. That included both English and Thai versions. As usual, we provided Vivo with a list of potential media outlets that we could pitch this event to and later sent out the corresponding invitations. A total of 74 members of the media were present. In support of the event, a press release was disseminated along with a group interview with the media. A report on the event was created and delivered to Vivo. The result is a massive 87 clippings across major TV and newspapers, as well as technology and lifestyle focused media. Highlight coverage: Thai Rath, TNN, CH3, Workpoint, Brand Age, Mono29, Droidsans, SiamPhone, among many others.
Vivo NEX 3 & MOU with Lazada: These are two separate events: on the one hand, there was the Vivo NEX 3 event and on the other hand, the Vivo Lazada MOU event. However, the PR activities were the same in both cases: a media mapping was provided to Vivo to inform about the potential media attendees, the corresponding invitations were sent out, a press release was disseminated and a report on the event was created and delivered to the company.
Media Buying: Midas-PR was able to secure a featured spot for Vivo on Thairath TV. The spot was used to promote the "Vivo V15 x BAMBAM GOT7 Blossom UP Exclusive Fan Meet". The budget the agency worked with was 394,990 THB. This specific task was rather challenging because we were asked to secure a spot in prime time on short notice. Furthermore, this task came at a time where politics was the centre of attention. Nonetheless, Midas-PR has the necessary experience and our relationships with the media are strong enough that we were able to obtain the cheapest price for a spot in a leading Thai TV channel.
Results
1034 clippings obtained

200.7 M total PR value in THB achieved

16.7 M average PR value in THB achieved permonth
59% Pickup rate from Tier A media
256 Total Media and KOL guests at Vivo events