CASE STUDIES
Wyeth/Pfizer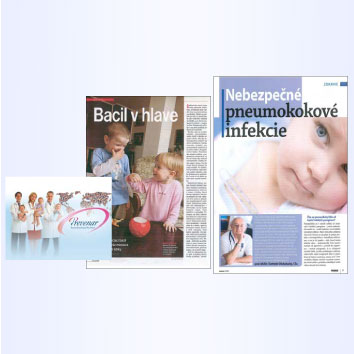 CLIENTS
Wyeth/Pfizer
Agencies Involved
PROI Slovak Republic: SEESAME Communication Experts
Job
To raise awareness about pneumococcal diseases and lobby for inclusion of Wyeth's vaccine Prevenar in Slovakia's National Immunisation Programme.
Objectives
Mandatory vaccination of all newborns against pneumococcal infections in Slovakia
Activities
All communication activities have been carried out in close cooperation with the Advisory Board, a pool of experts on paediatrics, immunisation and pharmaco-economic research who provide their expertise and act as vaccination advocates. As well as extensive media relations and advertising, Seesame involved parents in an informal association Nahlas o pneumokokoch (Loud about Pneumococci), a platform for exchange of experience with pneumococcal diseases and prevention. A Public Affairs campaign had been launched also. Seesame organised parliamentary hearings on vaccination in association with the World Health Organisation, chaired meetings with health insurance companies, and cooperated closely with Slovak Health Ministry and Public Health Authority.
Results
As of January 1, 2009 Prevenar has been included in Slovakia's National Immunisation Programme as a mandatory vaccine for all newborns. Communication activities carry on while waiting for Wyeth/Pfizer's new upgraded vaccine to be introduced in 2010.