CASE STUDIES
Berlin Partner GmbH - New York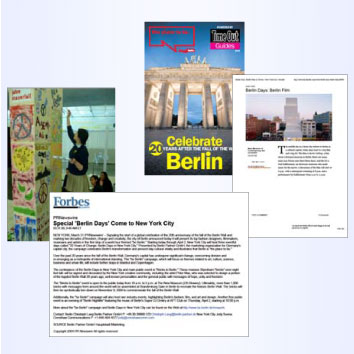 CLIENTS
Berlin Partner GmbH
Agencies Involved
PROI Germany: fischerAppelt
PROI New York: Crenshaw Communication
Job
Berlin Partner GmbH is the investment and image marketing organisation for the city of Berlin. To mark the 20th anniversary of the fall of the Berlin Wall in 2009, the city brought its marketing campaign "be Berlin" overseas.
Objectives
To showcase Berlin's growing prominence as a hot spot for art, culture, science, business and urban life. For three days (March 31 - April 2) the German capital showcased itself at the New Museum of Contemporary Art in Soho. fischerAppelt teamed up with PROI partner Crenshaw Communication to organise and promote the Berlin Days in New York.
Activities
fischerAppelt organised three eventful days in NY including a fashion show, a screening of the acclaimed film "Berlin Calling", a panel with director Hannes Stoehr as well as protagonist and DJ Paul Kalkbrenner, Pecha Kucha.

Presentations by artists and designers from NY and Berlin, the public brick signing event "Your message to Berlin" as well as glamorous after-show parties.

Crenshaw Communications and fischerAppelt realised pre-event PR activities to draw attention to the Berlin Days, including a promotional partnership with TIME OUT New York, live coverage in CBS national morning show (3.4 million viewers) and a press event at the launch of the public "Bricks to Berlin" project.
Results
Media exposure for campaign included TV segments on the nationally-televised CBS Early Show, ARD German TV, and Reuters TV; two exclusive promotional partnerships with Time Out New York; two advance placements in Web properties of the New York Times; and several pre- and post-event write-ups in outlets such as Associated Press Daybook, Time Out New York, FreeNYC.com, Yahoo! Upcoming and PhatGuru.com.