CASE STUDIES
Berlin Partner GmbH - Istanbul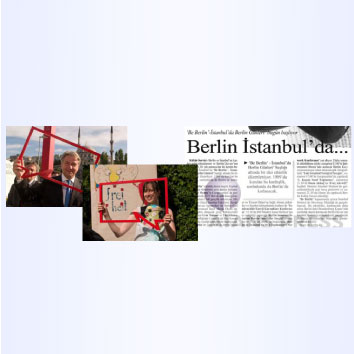 CLIENTS
Berlin Partner GmbH
Agencies Involved
PROI Germany: fischerAppelt
PROI Turkey: ZEGO Communication Strategies Center
Job
Berlin Partner GmbH is the investment and image marketing organisation for the city of Berlin. To mark the 20th anniversary of the fall of the Berlin Wall in 2009, the city brought its marketing campaign "be Berlin" overseas.
Objectives
After starting in New York, the international campaign be Berlin stopped in Istanbul. From (June 18 – 21) the Berlin Days offered a programme around music, economy, art, culture and lifestyle in order to present Berlin as "the place to be". During Berlin Days, the two main attractions were the "Bricks to Berlin" activity and the conference on renewable energies. The Governing Mayor of Berlin, Klaus Wowereit and the Mayor of Istanbul, Kadir Topbas, opened the Berlin Days by signing one of the bricks.
Activities
fischerAppelt worked together with the PROI partner ZEGO Communication Strategies Center in order to generate broad pre-event publicity and awareness, to guarantee a maximum of media and public attendance at the events and to organised interviews.

They also realised a promotional partnership with TIME OUT Istanbul and a press event at the launch of the "Bricks to Berlin" project.

Crenshaw Communications and fischerAppelt realised pre-event PR activities to draw attention to the Berlin Days, including a promotional partnership with TIME OUT New York, live coverage in CBS national morning show (3.4 million viewers) and a press event at the launch of the public "Bricks to Berlin" project.
Results
Extensive pre-event publicity and coverage in all major local media; appearance of numerous journalists and relevant media at the opening event, the conference and cultural events, realisation of exclusive media cooperation. Media exposure included articles in leading daily papers, TV and radio stations in Istanbul and Berlin, various online media and calendar listing.