CASE STUDIES
For Diversity, Against Discrimination Campaign in Portugal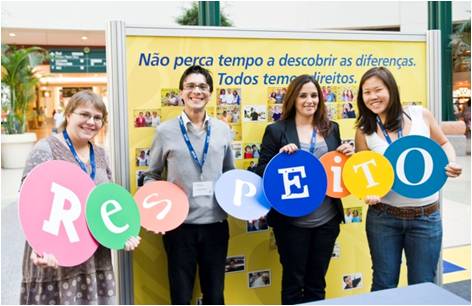 CLIENTS
European Commission' EC Information campaign
Agencies Involved
PROI Portugal: Grupo Inforpress
PROI Belgium: Mostra
Job
"For Diversity. Against Discrimination", is an information campaign run in all 27 EU Member States by the European Commission (EC), Directorate General for Employment, Social Affairs and Equal Opportunities.

The objective of this campaign is to raise awareness of discrimination in order to contribute to the promotion of a better understanding of diversity in today's work and society. Diversity is defined as based on race or ethnic origin in all areas of life and on age, disability, sexual orientation and religious beliefs in the workplace. People need to think about their attitudes and take responsibility for their behavior.
Objectives
After the EC consulted the members of the PT Government Expert Group, who work in the field of anti-discrimination/equality, Portugal was one of the chosen countries to implement this campaign along with Cyprus, Luxemburg and Sweden. Behind this decision is the fact that the EU tried to balance certain factors: older and newer Member States; geography; and the size of Member States.

Our PROI Partner Mostra in Brussels works with the EU and presented Inforpress as their Portuguese PROI Partner agency who could implement this program to raise awareness amongst the general public about the issues of equality, diversity and discrimination.

"Diversity days" - Dias da Diversidade - is an initiative of the campaign "For Diversity. Against Discrimination". These day's were devised together with national NGO´s, Social and Public Partners. The organization of the event and all the on.line activities were developed by Inforpress.
Activities
After a meeting held in Lisbon with two persons from Mostra, it was decided to organize a public event in the biggest shopping center of Lisbon from the 15th till 18th October and without having to pay for the venue (probono). The work was developed in partnership with Mostra which was crucial since they understood EU thinking and objectives. Considering that discrimination is a sensitive subject that requires constant balancing of equity on every aspect, it was very important to have our Partner support.

Activities:
Wheelchair table tennis;
Paint for Diversity;
Polaroid Photo Wall;
Anti-discrimination Electronic Game;
Challenge your Thinking (transparent Ideas Box);
Animation/dancing/music small concerts;
Youth workshops;
Laptop Game about Discrimination;
Results
Results achieved (highlights, quantitative and qualitative information):
2.000 visitors
350 anti-discrimination quiz game participations
80 ideas messages against discrimination
14 participants NGO´s with their own stand
28.000 giveaways and publication distributes
Online actions:
Followers blog: 30
Facebook friends: 328
Diversity face book fans. 248
Twitter followers: 31
Hi5 friends: 102