CASE STUDIES
Pan European Project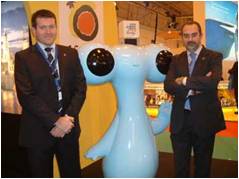 CLIENTS
Expo Zaragoza 2007
Agencies Involved
PROI Portugal: Grupo Inforpress)
PROI Italy: TT&A
PROI Germany: fisherAppelt
PROI France: i&e
Job
The Challenge:
To develop a PR program promoting the Expo Zaragoza event during the largest national and international tourism fairs, while attracting the largest number of people to attend the event held in June 2008:

Lisbon: BTL Lisbon Tourism Fair: 24 - 28 of January
Milan: BIT (Borsa International del Turismo): 22 – 25 of February
Berlin: ITB Berlin 2007: 7 – 11 of March
Paris: SMT Paris World Tourism Fair 2007: 15 – 18 of March
Objectives
Create awareness of the international fair
promote locall activities and spokerspersons
Activities
Solution:
Time for implementation and budgets were two difficult aspects of this project, but since Expo Zargoza already had produced a significant number of documents and information, we reduced the budget by adapting all these materials to each county. With the fantastic support of our PROI Partners, we developed a successful pan European initiative incorporating media interviews and VIP visitors to the stands.

Implementation:
Inforpress approached the PROI Partners from Italy, Germany and France in a "step by step strategy" to determine their interest in participating.
Results
Outcome:
We had excellent coverage in the Portuguese, Italian, German and French media and attracted many people to the Expo Zaragoza stand.

The client saw that Inforpress, as lead agency which had already undertaken the project in Portugal, not only successfully passed the project on to PROI Partners, but was also able to assist them when they had difficulties with publishing information or attracting media attention.

Although the client only requested PR support in Portugal, they asked for additional support when we mentioned the PROI partnership could provide them with support at other international fairs.

By demonstrating that Inforpress was able to develop an excellent result-based campaign in Portugal, we convinced a happy client we could provide support in a "step by step strategy" at other international fairs. Knowing that our PROI agency Partners had expertise implemring this kind of project, we knew this was an excellent opportunity - both for the client and our PROI Partners.