CASE STUDIES
FDAD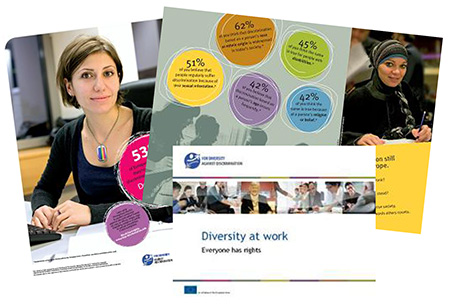 CLIENTS
EC - Information campaign For Diversity, Against Discrimination
Agencies Involved
ICF Mostra, SEESAME Communication Experts
Job
PROGRESS 2007-2013= EU's employment and social solidarity programme, established to support financially the implementation of the objectives of the European Union in employment, social affairs and equal opportunities in 5 areas:
Employment, Social inclusion/protection, Working conditions, Gender equality, Non-discrimination.

FDAD campaign is one of activities supported by PROGRESS.
Objectives
To inform people about their rights and obligations under EU legislation; raise awareness of discrimination issues; promote benefits of diversity.
Activities
All communication activities within this campaign are carried out in the close cooperation of all partners concerned: National Correspondent (Seesame), National Working Group and the Brussels hub (Pleon and ICF Mostra). Each year of the campaign consists of various activities:
Role / Active participation of National Correspondent
Proactive media relations and media monitoring
National Working Group meetings
National events and partnerships
Journalist Award
Information material and web page
Results
Extensive publicity of the campaign has resulted in high awareness about the issues it addresses. By mixing international knowledge and local context,
Slovakia's share on the pan-European publicity has been among the highest in the network.